When one mentions Munich, people immediately think of one thing: Octoberfest. Octoberfest is the world's largest Volksfest which is held every year from mid or late September till the first week of October in the third largest city in Germany, Munich. And since we are already with one foot in October, we decided to reveal to you the top 5 things that you shouldn't skip under any circumstance when in Munich during the popular Octoberfest.
 1. Drink a glass of beer in every beer tent.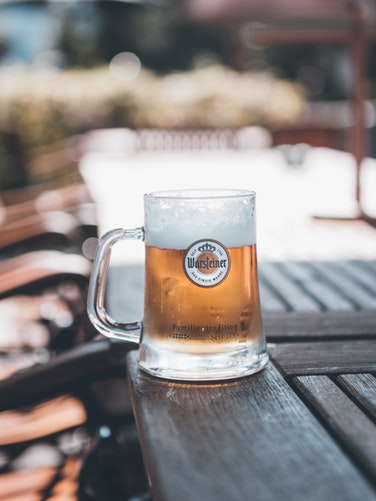 Going to Octoberfest without having a glass or two of authentic German craft beer in every beer tent would be nothing else, but a huge nonsense. The reason why you should go from a tent to tent and get a glass of beer in each one of them is that every tent has a different ambiance and character. To inspire you to start your tent tour, keep in mind that every tent has to offer a different type of beer and different authentic German specialties which are finger-licking delicious!
2. See the Octoberfest Parades.
To see the Octoberfest Parades, make sure to be there on the first weekend of the festival. Why you shouldn't miss these parades for anything in the world is because that is the only Saturday of the year you have the chance to see breweries and landlords parading around the streets wearing traditional-style floats and carriages. The next day is reserved for the spectacular showcase of a variety of vintage costumes from different parts of the country. And all that while enjoying the live music of the marching bands!
3. Visit Schichtl.  
If you want to feel the spirit of Octoberfest to the fullest then don't forget to visit Schichtl. The Schichtl theater is a real Octoberfest tradition that dates back from 1869. Ever since each year during Octoberfest, people have the chance to witness at least 25 – 30 daily performances of fake decapitations whose 'victims' are chosen from the audience!
4. Get a ride on the grand Octoberfest's classics. 
Octoberfest is way more than just drinking beer and eating authentic German food, it is all about having fun like if there is no tomorrow. And that's exactly why you shouldn't let Octoberfest come to an end before getting some rides on the grand Octoberfest's classics. Between the others, make sure to check out Hexenschaukel (the oldest ride at the festival, built in 1894), Krinoline (a carousel, built in 1924) and Alpha-Bahn (the first roller coaster to debut an airtime hill in 1984).
5. See Munich during Octoberfest from above. 
Just imagine how spectacular is the panoramic view of Munich during our beloved Octoberfest! In fact, you could see that with your own eyes if you just get a ride on Ferris Wheel – a panoramic wheel which became an Octoberfest's landmark back in 1979 and ever since it's the most photographed feature of the festival.